NOTE: THE ARTICLE CITED IN THIS POST HAS BEEN RETRACTED DUE TO CONCERNS OF DATA REPRODUCIBILITY. THE INFORMATION ON THIS BLOG POST THAT REFERENCES THE LANCET ARTICLE IS INCORRECT, AND THE DATA SHARED SHOULD NOT BE TRUSTED.
PLEASE READ MY UPDATED BLOG ON THE ARTICLE AND THE ISSUES CURRENTLY BEING ADDRESSED ABOUT THE ORIGINAL LANCET POST.
It has been a rough ride for everyone over the past two months. Fighting a pandemic and getting used to the new "normal" has been challenging. And of course, like every other disease, pseudo-scientific treatments against SARS-CoV-2 have sprung up like weeds.
However, in mid-March a small study suggested that Hydroxychloroquine, a drug designed for malaria, may be a useful treatment for COVID-19.
The study erupted and people began requesting this "miracle cure" from their doctors. Some doctors even began hoarding it for their family members and prescribing it without investigating the evidence thoroughly.
The initial study that suggested hydroxychloroquine (or hydroxychloroquine in combination with an antibiotic such as azythromycin) for treatment of COVID-19 has been debunked, and I will not address the issues in the article directly. You can find a great article discussing this paper here.
Almost immediately after the publication of the article, it was deflated by researchers and other medical professionals, but the damage was already done.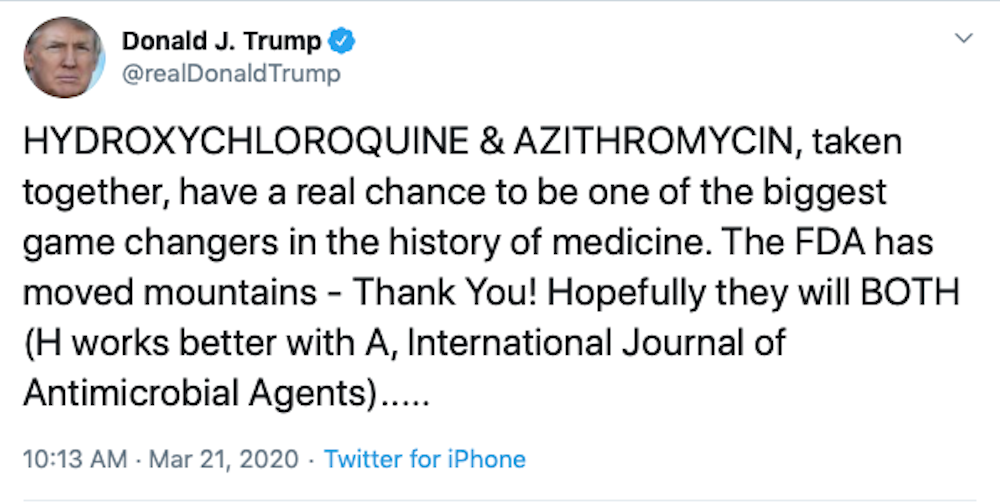 President Trump of course had to put in his two cents in, without any sort of consultation with a doctor. It was even reported that he has been taking chloroquine to try and prevent himself from contracting COVID-19.
Dr. Oz and several other opportunistic doctors have been touting the miracle cure of hydroxychloroquine and have been recommending it for those who might be nervous of getting COVID-19.
As many scientists have been warning, the risks of taking hydroxychloroquine and azythromycin do not necessarily outweigh the risks. Both chloroquine and azythromycin have a risk of developing cardiac arrythmias, and patients who take them should be monitored closely by a doctor.
Not only are is chloroquine dangerous, but it also is a very necessary treatment for malaria as well as rheumatoid arthritis. This recent spike in prescriptions has led to a shortage of the drug for those who actually need it.
Cut to this week, where a recent study published in The Lancelet discovers that, in fact, chloroquine is not the miracle cure we have been looking for.
In the study, the researchers examined 96,032 patients where 14,888 received one of four treatments (chloroquine, chloroquine+macrolide, hydroxychloroquine, hydroxychloroquine+macrolide) and 81,144 in the control group received none of the above (in this study macrolide was either azythromycin or clarithromycin).
The patient population was also diverse and across several nationalities.
The study cohort included 63 315 (65·9%) patients from North America, 16 574 (17·3%) from Europe, 7555 (7·9%) from Asia, 4402 (4·6%) from Africa, 3577 (3·7%) from South America, and 609 (0·6%) from Australia
When you compare this to the previous study, where only 36 patients from two different nationalities were evaluated, it shows just how more comprehensive the study is.
The most remarkable data from this article is the bottom four rows of this figure. All of the outlined treatments for COVID-19 resulted in a significant increase in risk of ventricular arrhythmia.
Even after you subtract basal risk of patients with underlying diseases (such as cardiovascular disease and COPD) there is still a significant increase in cardiac arrest with patients taking COVID-19.
While this study is the most comprehensive one available to date, there are still limitations.
The association of decreased survival with hydroxychloroquine or chloroquine treatment regimens should be interpreted cautiously. Due to the observational study design, we cannot exclude the possibility of unmeasured confounding factors, although we have reassuringly noted consistency between the primary analysis and the propensity score matched analyses. Nevertheless, a cause-and-effect relationship between drug therapy and survival should not be inferred. These data do not apply to the use of any treatment regimen used in the ambulatory, out-of-hospital setting. Randomised clinical trials will be required before any conclusion can be reached regarding benefit or harm of these agents in COVID-19 patients. We also note that although we evaluated the relationship of the drug treatment regimens with the occurrence of ventricular arrhythmias, we did not measure QT intervals, nor did we stratify the arrhythmia pattern (such as torsade de pointes). We also did not establish if the association of increased risk of in-hospital death with use of the drug regimens is linked directly to their cardiovascular risk, nor did we conduct a drug dose-response analysis of the observed risks. Even if these limitations suggest a conservative interpretation of the findings, we believe that the absence of any observed benefit could still represent a reasonable explanation.
So while we really do not yet fully comprehend the affects of hydroxychloroquine on COVID-19 patients, we are discovering that it is not something to take lightly. This article was observational in nature, and was not randomized and did not incorporate a double blind placebo group.
Until such a time when a proper clinical trial is conducted and more evidence is analyzed, hydroxychloroquine should not be taken as a preventative measure, or a cure for COVID-19.
As always, this blog is not designed to provide medical advice. Please consult with a physician if you are seeking medical attention.